WELCOME TO CHALLENGE ISKANDAR PUTERI 2019
Iskandar Puteri in the southern state of Johor in Malaysia is the location for the 4th Edition of Challenge Iskandar Puteri , a half distance triathlon of The Challenge Family group.
The Race Village, Transition areas as well as the start of the Swim section are on the grounds of Puteri Harbour Marina, an international marina surrounded by hotels, service residences, F&B and entertainment outlets.
In 2018, the race received two awards from AsiaTRI.com, namely "Most Convenient Race in Asia – Long Course and Best Family Friendly Race in Asia – Long Course, validating the Organiser's decision to host the race in Iskandar Puteri since its inaugural run in Malaysia.
The race starts from the marina where participants dive into the cool waters of Puteri Harbour Marina for the 1.9 Km swim. The 90 Km bike route passes through scenic and lush greenery and residential areas of Iskandar Puteri.
On the 21 Km Run course, triathletes will race along the tree-lined streets of Kota Iskandar, the state administrative centre with its collection of architecturally aesthetic structures.
The contrasting landscapes and well-maintained roads at Iskandar Puteri plus the sunny Malaysian weather make a perfect blend for another fantastic year at Challenge Iskandar Puteri.
Guide Book: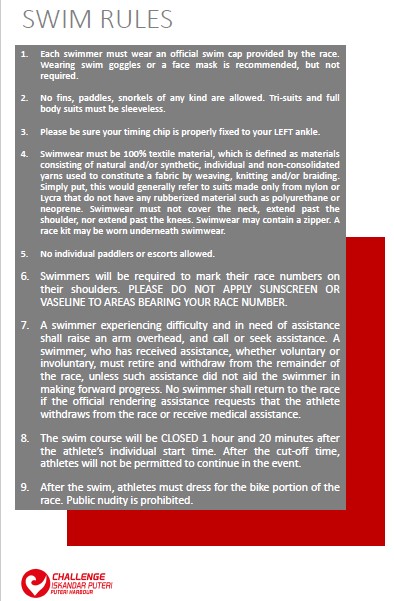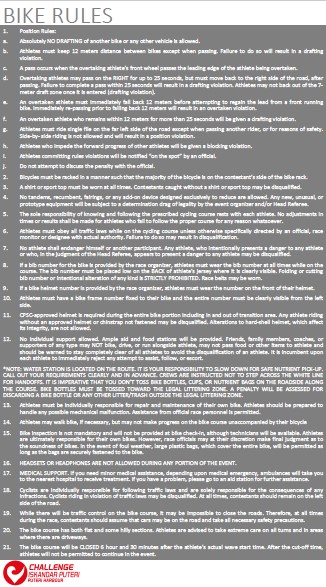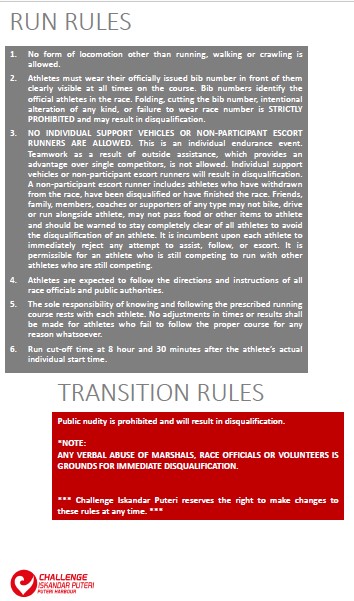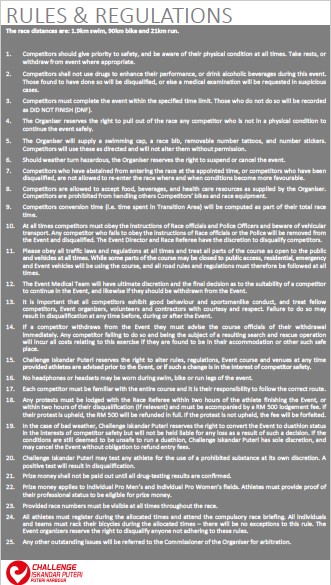 Event Information
Kids Race
Main Race
23rd November 2019, Saturday
8:00am – 6:00pm
24th November 2019, Sunday
5:00am – 5:00pm
Venue: Puteri Harbour Marina, Iskandar Puteri, Johor
Main Race
Prizes: Top 3 in each age group get trophies
| | | | |
| --- | --- | --- | --- |
| o AGE GROUPS | SWIM | BIKE | RUN |
| o Age 18-24 | 1.9Km | 90Km | 21Km |
| o Age 25-29 | 1.9Km | 90Km | 21Km |
| o Age 30-34 | 1.9Km | 90Km | 21Km |
| o Age 35-39 | 1.9Km | 90Km | 21Km |
| o Age 40-44 | 1.9Km | 90Km | 21Km |
| o Age 45-49 | 1.9Km | 90Km | 21Km |
| o Age 50-54 | 1.9Km | 90Km | 21Km |
| o Age 55-59 | 1.9Km | 90Km | 21Km |
| o Age 60-69 | 1.9Km | 90Km | 21Km |
PARTICIPANTS' ENTITLEMENT:
Bag
Event-T
Finisher-T
Finisher Medal
HUUB Swim Cap
E-Certificate
Dinner on eve of Main Race
Celebration lunch post race
INSURANCE COVERAGE:
Public Liability and Personal Accident
Kids Race
Challenge Kids Race's popularity has increased since its inaugural run in 2016. In 2019, the race will also serve as the Finals for the triathlon series of three top international schools located at Iskandar Puteri. Students from Marlborough College Malaysia, Excelsior International School as well as Raffles American School will be racing in this event as the finals to their school triathlon series.
Prizes: Top 3 in each age group get trophies
| | | | | |
| --- | --- | --- | --- | --- |
| o AGE GROUPS | o RACE CATEGORY | SWIM | BIKE | RUN |
| o Age 6 – 7 | o JUNIOR | 50m | 3Km | 500m |
| o Age 8 – 9 | o JUNIOR | 50m | 3Km | 500m |
| o Age 10 – 11 | o INTERMEDIATE | 150m | 6Km | 1,500m |
| o Age 12 – 13 | o INTERMEDIATE | 150m | 6Km | 1,500m |
| o Age 14 – 15 | o SENIOR | 200m | 12Km | 3,000m |
| o Age 16 – 17 | o SENIOR | 200m | 12Km | 3,000m |
PARTICIPANTS' ENTITLEMENT:
Bag
Event-T
Finisher-T
Finisher Medal
HUUB Swim Cap
E-Certificate
INSURANCE COVERAGE:
Public Liability and Personal Accident
​T-Shirt Size Chart:
Event Schedule & REPC
Guidelines To Participants And Terms & Conditions 
Collection of Race Packs

Collection of Race Pack will be from the Registration Centre.
The Registration Centre will be opened on Friday 22nd November and Saturday 23rd November 2019 from 9.00am to 6.00pm
The Registration Centre will be opened for last minute registration on Sunday 24th November 2019 from 5.00am to 6.30am.
Kindly bring your registration Boarding Pass as proof of valid participation.
The BIKE Check-in will start on Saturday 23rd November 2019 from 12noon to 10pm and on Sunday 24th November 2019 from 5.00am to 6.00am. Bike mechanic services are available during opening hours.
Size exchange is not allowed if the item is given according to the information given in the registration.
The organisers will do their best to provide according to the T-Shirt sizing indicated by participants when they register and will not be held responsible if any discrepancy should occur.

Refunds

No refund will be entertained once full payment is received.
Confirmed registrations are not transferable to other persons.

Finisher T-shirts & Medals

Only finishers who complete within the stipulated time will receive the Finisher T-shirt and Finisher Medal.
Size exchange is not allowed if the item is given according to the information given in the registration.
The organisers will do their best to provide according to the T-Shirt sizing indicated by participants when they register and will not be held responsible if any discrepancy should occur.

Withdrawal during the race

Any participant who wishes to withdraw during the race is required to inform an official or marshal along the route.

Medical Advice

As a precaution, all participants are advised to undergo a check-up one month prior to the date of the event.
Medical assistance will be available and the organisers will provide medical assistance for the event. However, participants are requested to take care of their own safety before, during and after the event.
In the event that a participant requires medical assistance, please inform the nearest official or marshal.

Safety

Participants are required to follow the given routes and heed all directions given by officials on duty or police.
Unauthorized vehicles are NOT allowed to accompany the runners.

Others

The Event Guidebook which includes the terms and conditions, rules and regulations, routes and transition maps will be given to all participants for their reference.
The organisers are not responsible for any injuries, losses, damages, death and other undesirable occurrences before, during and after the event.
The organisers reserve the right to amend and/or make changes to the event rules, terms and conditions, race routes and/or other arrangements as they deem fit/appropriate, to cancel, to postpone or reschedule the event date to a later date for the safety of the participants and/or to prevent any potential hazards in the running of the race, at any time without prior notice to the participant. In such cases, every effort will be made to inform the participant prior to the date of the race. The organiser shall not be held liable for any loss or inconvenience caused due to such changes.
All participants, staff, officials, marshals and crew members must display courtesy, good taste, decorum, and sportsmanship at all times.
Nudity is specifically not allowed.
All decisions by organisers are final, and no disputes shall be entertained.
Email address for participants to contact the Organisers : info-challenge@carbon-worldwide.com